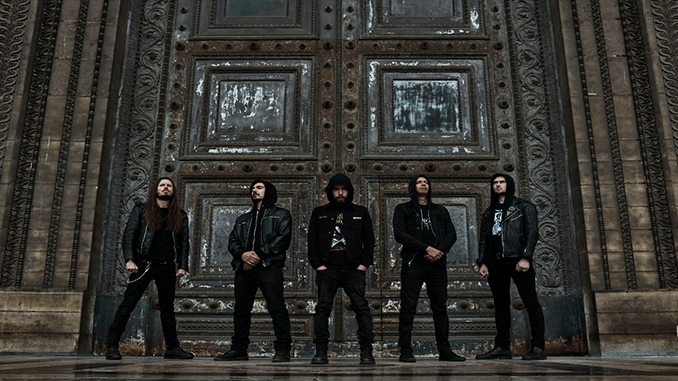 ---
La banda francesa de Post Black Metal Regarde les Hommes Tomber, han anunciado una serie de fechas para este otoño 2020, donde pasaran por los países de Francia, Bélgica y Alemania.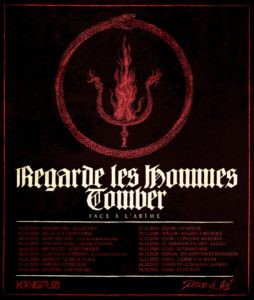 La primera de las fechas tendrá lugar el próximo viernes 2 de octubre en la ciudad francesa de Strasbourg, y tendrá diferentes show durante los meses de octubre, noviembre y diciembre.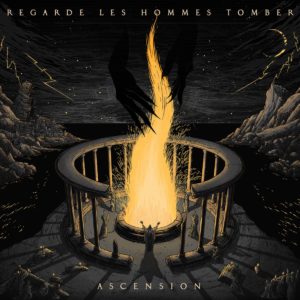 Regarde les Hommes Tomber estará presentando su nuevo trabajo 'Ascension', que fue editado por el sello Season of Mist en febrero 2020.
Track List:
I. L'Ascension (1:49)
II. A New Order (8:04)
III. The Renegade Son (8:01)
IV. The Crowning (9:26)
V. Stellar Cross (8 :10)
VI. La Tentation (2:28)
VII. Au Bord Du Gouffre (8:53)
Las fechas son las siguientes:
02 Oct 20 Strasbourg (FR) La Laiterie
03 Oct 20 Metz (FR) Les Trinitaires
04 Oct 20 Montbéliard (FR) Théâtre de Montbéliard
09 Oct 20 Ivry-Sur-Seine (FR) La JIMI Festival
16 Oct 20 Bruxelles (BE) Le Botanique
30 Oct 20 Clermont-Ferrand (FR) La Coopérative de Mai
31 Oct 20 Annecy (FR) Le Brise Glace
14 Nov 20 Nantes (FR) Stereolux
26 Nov 20 Orléans (FR) L'Astrolabe
27 Nov 20 Dijon (FR) La Vapeur
28 Nov 20 Mâcon (FR) La Cave à Musique
03 Dec 20 Lyon (FR) L'Epicerie Moderne
04 Dec 20 Saint-Germain-En-Laye (FR) La Clef
08 Dec 20 Lille (FR) Le Grand Mix
10 Dec 20 Berlin (DE) De Mortum Et Diabolum
12 Dec 20 Paris (FR) Storm The Arena
18 Dec 20 Limoges (FR) CCM John Lennon
18 Feb 21 Paris (FR) Petit Bain
---
Para más información sobre conciertos visita nuestra agenda de conciertos:   https://www.brokentombmagazine.com/cita con la muerte/agenda de conciertos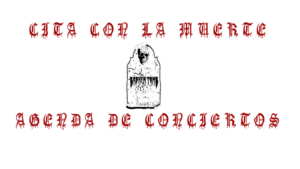 ---
Por otro lado también han anunciado una gira conjunta con los estadounidenses Uada, que les llevara durante los meses de marzo y abril 2021 por Europa. Velnias y Solbrud serán los invitados especiales de esta gira.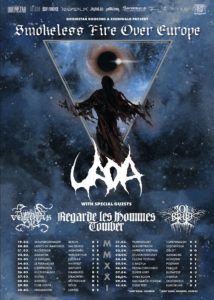 Las fechas son las siguientes:
19 Mar 21 Berlin (DE) Walpurgisnacht
20 Mar 21 Salzburg (AT) Light of Darkness Festival
21 Mar 21 Munich (DE) Backstage
22 Mar 21 Winterthur (CH) Gaswerk
23 Mar 21 Colmar (FR) Le Grillen
25 Mar 21 Savigny de Temple (FR) L'empreinte
26 Mar 21 Hamburg (DE) Kulturpalast
27 Mar 21 Drachten (NL) Northern Darkness Fest
28 Mar 21 Rotterdam (NL) Baroeg
29 Mar 21 Cologne (DE) Club Volta
30 Mar 21 Leipzig (DE) Naumanns
31 Mar 21 Copenhagen (DK) Pumpehuset
01 Apr 21 Stockholm (SE) Slaktkyrkan
02 Apr 21 Oslo (NO) Inferno Metal Festival *
03 Apr 21 Aalborg (DK) Studenterhuset
04 Apr 21 Münster (DE) Culthe Festival
05 Apr 21 Poznan (PL) U Bazyla
06 Apr 21 Prague (CZ) Nova Chmelnice
07 Apr 21 Budapest (HU) Dürer Kert
08 Apr 21 Vienna (AT) Viper Room
09 Apr 21 Lichtenfels (DE) Ragnarök Festival
10 Apr 21 Karlsruhe (DE) Dude Fest
* Only REGARDE LES HOMMES TOMBER
Grabado y mezclado: Francis Caste, Studio Sainte Marthe
Masterizado: Francis Caste, Studio Sainte Marthe
Portada: Fortifem
Line-up:
Vocals : T.C
Guitar : J.J.S
Guitar : A.M
Bass : A.B
Drums : R.R