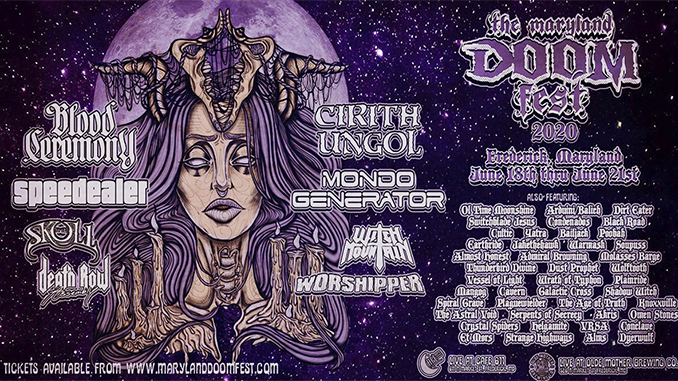 El The †maryland DOOM† Fest celebra su sexto aniversario en 2020 y para ello han anunciado a Cirith Ungol, Blood Ceremony, Speedealer y Mondo Generator, como cabeza de cartel de cada día.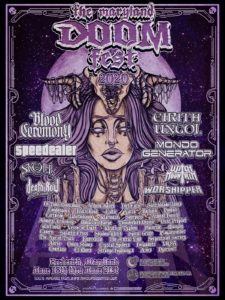 El maryland se celebrará entre el 18 y el 21 de junio en el Cafe 611 (611 N Market St), como escenario principal, y en el Olde Mother Brewing Co (526 N. Market Street), a escasos metros del Cafe 611, como segundo escenario, en la ciudad de Frederick (MD, USA).
The †maryland DOOM† Fest congregará a grupos estadounidenses e internacionales de todo el mundo a Frederick, MD durante cuatro días completos de caos. Este sexto año del festival, incluye más de cincuenta de las bandas más pesadas de la actualidad para cubrir cada rincón oscuro y húmedo de los subgéneros de metal en cada centímetro del escenario, de principio a fin cada noche.
---
Evento —> https://www.facebook.com/events/827407774319811/
Para más información sobre conciertos visita nuestra agenda de conciertos: https://www.brokentombmagazine.com/cita con la muerte/agenda de conciertos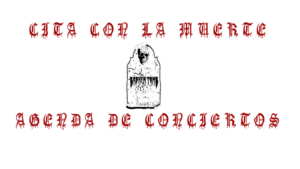 ---
Los grupos que actuarán en el festival son los siguientes:
CIRITH UNGOL + BLOOD CEREMONY + SPEEDEALER + MONDO GENERATOR
THE SKULL + WITCH MOUNTAIN + WORSHIPPER + DEATH ROW ASSEMBLY
Ol' Time Moonshine + Arduini / Balich + Dirt Eater + Switchblade Jesus + Condenados + Black Road + Cultic + Yatra + Bailjack + Poobah + Earthride + Jakethehawk + Warmask + Sourpuss + Almost Honest + Admiral Browning + Molasses Barge + Thunderbird Divine + Dust Prophet + Alms + Wolftooth + Vessel Of Light + Wrath Of Typhon + Plainride + Mangog + Cavern + Galactic Cross + Shadow Witch + Spiral Grave + Plaguewielder + The Age Of Truth + Knoxxville + The Astral Void + Serpents Of Secrecy + Akris + Omen Stones + Crystal Spiders + Helgamite + VRSA + Conclave + Et Mors + Strange Highways + Dyerwulf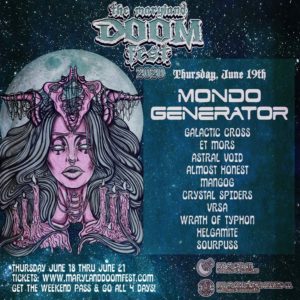 -Cafe 611-
Mondo Generator – 11:15-12:30
Mangog – 10:10-10:55
Wrath of Typhon – 9:05-9:50
Galactic Cross – 8:05-8:45
Crystal Spiders – 7:05-7:45
Helgamite – 6:05-6:45
Almost Honest – 5:00-5:45
-Olde Mother-
VRSA – 9:20-10:00
Sourpuss – 8:20-9:00
Et Mors – 7:20-8:00
The Astral Void – 6:15-7:00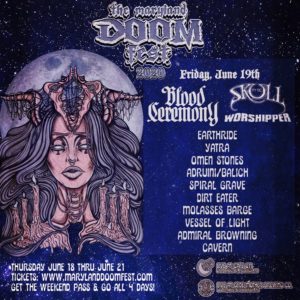 -Cafe 611-
Blood Ceremony – 11:50-1:15
The Skull – 10:40-11:30
Earthride – 9:40-10:20
Worshipper – 8:40-9:20
Admiral Browning – 7:40-8:20
Omen Stones – 6:40-7:20
Spiral Grave – 5:35-6:20
-Olde Mother-
Cavern – 9:20-10:00
Vessel of Light – 8:20-9:00
Yatra – 7:20-8:00
Molasses Barge – 6:20-7:00
Arduini / Balich – 5:15-6:00
Dirt Eater – 4:30-5:05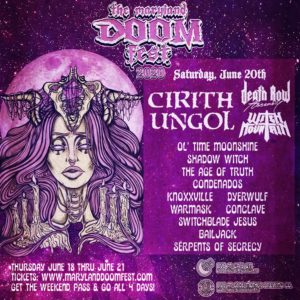 -Cafe 611-
Cirith Ungol – 11:50-1:15
Death Row Assembly – 10:40-11:30
Witch Mountain – 9:40-10:20
Ol Time Moonshine – 8:30-9:20
Shadow Witch – 7:40-8:20
The Age of Truth – 6:40-7:20
Knoxxville – 5:40-6:20
Dyerwulf – 4:40-5:20
-Olde Mother Brewing-
Serpents of Secrecy – 9:20-10:00
Condenados – 8:20-9:00
Conclave – 7:20-8:00
Switchblade Jesus – 6:20-7:00
Bailjack – 5:20-6:00
Warmask – 4:15-5:00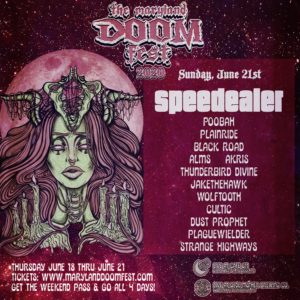 -Cafe 611-
Speedealer – 11:15-12:30
Poobah – 10:10-10:55
Plainride – 9:05-9:50
Akris – 8:05-8:45
Alms – 7:05-7:45
Thunderbird Divine – 6:05-6:45
Strange Highways – 5:05-5:45
Wolftooth – 4:05-4:45
-Olde Mother Brewing-
Jakethehawk – 9:20-10:00
Black Road – 8:20-9:00
Cultic – 7:20-8:00
Dust Prophet – 6:20-7:00
Plaguewielder – 5:20-6:00