SWR Barroselas Metalfest ha dado a conocer el cierre del festival con la inclusión de 20 grupos más.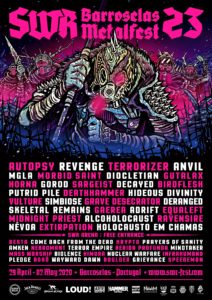 Los últimos grupos confirmados son, BESTA + COME BACK FROM THE DEAD + KRYPTO + PRAYERS OF SANITY + AMKEN + NEKROMANT + TERROR EMPIRE + HERIDA PROFUNDA + MINDTAKER + MASS WORSHIP + BIOLENCE + HIMURA + NUCLEAR WARFARE + INFRAHUMANO + PLEDGE + ASKÖ + WAYWARD DAWN + BOULDER + GRIEVANCE + SPEEDEMON.
Recordamos que el festival se celebra entre el 29 de abril y el 2 de mayo en la ciudad de Barroselas (Portugal), y que contará con la presencia de nombres tan relevantes como Autopsy, Revenge, Terrorizer, Anvil, Mgła o Morbid Saint.
---
Evento —> https://www.facebook.com/events/315286246019420
Para más información sobre conciertos visita nuestra agenda de conciertos: https://www.brokentombmagazine.com/cita con la muerte/agenda de conciertos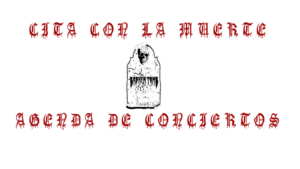 ---
Puedes adquirir tu abono o entrada por día, en lo siguientes enlaces:
https://swrfest.bigcartel.com
https://www.swr-fest.com/tickets
eb: www.swr-fest.com
Facebook: www.facebook.com/SWR.barroselas.metalfest
Instagram: www.instagram.com/swrfest
YouTube: www.youtube.com/user/SWRfest
El camping del SWR está ubicado en una zona boscosa a sólo 2 minutos del recinto principal y abre una semana antes del festival. La acampada es libre, gratuita.
La distribución por días queda de la siguiente manera:
DÍA 0 – MIÉRCOLES 29.04.2020 – ENTRADA LIBRE – 22:30/02:30
PRAYERS OF SANITY | Portugal | fb.com/prayersofsanity
PLEDGE | Portugal | fb.com/PLEDGEbandofficial
BOULDER | Portugal | fb.com/boulderofficial
GRIEVANCE | Portugal | fb.com/grievanceblackmetal
SPEEDEMON | Portugal | fb.com/speedemon.band
DÍA 1 – JUEVES 30.04.2020 – 17:00/04:00
REVENGE | Canadá | fb.com/RevengeofficialSoMpage
ANVIL | Canadá | fb.com/anvilmetal
DIOCLETIAN | Nueva Zelanda | fb.com/DOOMCULT
GUTALAX | República Checa | fb.com/GUTALAX-cz-gore-grind–116773548349011
GOROD | France | fb.com/GorodOfficial
PUTRID PILE | Estados Unidos | fb.com/PutridPileOfficial
GRAVE DESECRATOR | Brasil | fb.com/gravedesecrator666
ADRIFT | España | fb.com/Adrift666
EQUALEFT | Portugal | fb.com/equaleft
NÉVOA | Portugal | fb.com/nevoaofficial
KRYPTO | Portugal | fb.com/kryptonoise
AMKEN | Grecia | fb.com/amkenthrash
NEKROMANT | Suecia | fb.com/Nekromantband
MINDTAKER | Portugal | fb.com/mindtakerthrash
BIOLENCE | Portugal | fb.com/blnce
DÍA 2 – VIERNES 01.05.2020 – 17:00/04:00
TERRORIZER | Estados Unidos | fb.com/terrorizerofficial
MGLA | Polonia | fb.com/mglaofficial
SARGEIST | Finlandia | fb.com/thetruesargeist
DEATHHAMMER | Noruega | fb.com/deathhammerofficial
HIDEOUS DIVINITY | Italia | fb.com/hideousdivinity
DERANGED | Suecia | fb.com/derangedband
VULTURE | Alemania | fb.com/vulturekills
SKELETAL REMAINS | Estados Unidos | fb.com/SkeletalRemainsDeathMetal
MIDNIGHT PRIEST | Portugal | fb.com/midnightpriest
EXTIRPATION | Italia | fb.com/extirpationband
BESTA | Portugal | fb.com/bestagrind
MASS WORSHIP | Suecia | fb.com/massworship
NUCLEAR WARFARE | Alemania | fb.com/ThrashMetalTank
ASKÖ | Portugal | fb.com/askodisbeat
WAYWARD DAWN | Dinamarca | fb.com/waywarddawn
DÍA 3 – SÁBADO 02.05.2020 – 17:00/04:00
AUTOPSY | Estados Unidos | fb.com/Autopsy-Official-162194133792668
MORBID SAINT | Estados Unidos | fb.com/morbidsaintofficial
HORNA | Finlandia | fb.com/HornaOfficial
DECAYED | Portugal | fb.com/DKD666
BIRDFLESH | Suecia | fb.com/birdfleshgrind
SIMBIOSE | Portugal | fb.com/SimbioseCrust
GAEREA | Portugal | fb.com/gaerea
RAVENSIRE | Portugal | fb.com/Ravensire
ALCOHOLOCAUST | Portugal | fb.com/brigada.anti.posers
HOLOCAUSTO EM CHAMAS | Portugal | holocaustoemchamas.bandcamp.com
COME BACK FROM THE DEAD | España | fb.com/COMEBACKFROMTHEDEAD
TERROR EMPIRE | Portugal | fb.com/terrorempire
HERIDA PROFUNDA | Polonia | fb.com/HeridaProfunda
HIMURA | España | fb.com/himuradeathgrind
INFRAHUMANO | España | fb.com/Infrahumanometalband