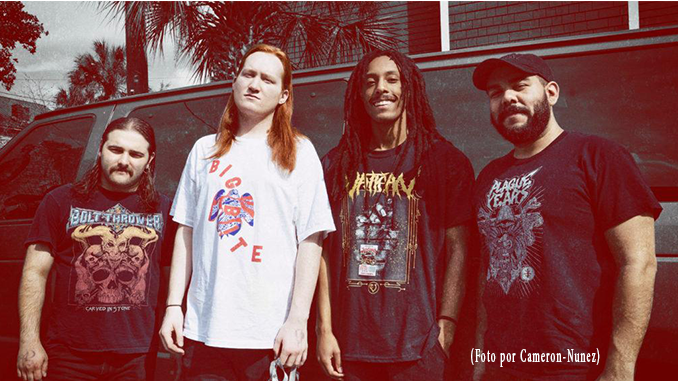 La banda de Texas (USA) Creeping Death, confirman una serie de fechas divididas en varios Tour por Norteamérica, como promoción de su primer larga duración 'Wretched Illusions' editado por Entertainment One («eOne»). Los de Texas se mueven en un Death/Hardocre, en el que el álbum fue Producido por Daniel Schmuck (Power Trip, Messenger, End Times) y mezclado y masterizado por Arthur Rizk (Ghostmane, Cavalera Conspiracy, Outer Heaven).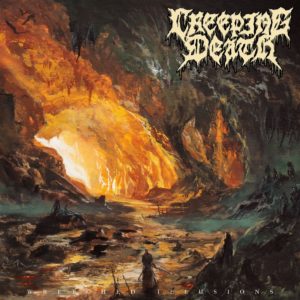 Ripping Through Flesh 05:08
Captivity 03:44
Bloodlust Contamination 04:03
Sinner's Torch 03:37
Corroded from Within 04:08
Peeled from Reality 03:36
World Decay 03:17
Wretched Illusions 03:29
Dawn of Time 04:13
Consumed 04:29
La primera de las giras comienza el jueves 16 de enero y se extiende hasta el 23 de enero. Siete fechas en las que estarán acompañados por el grupo de Death Metal Sanguisugabogg.
Las fechas son las siguientes:
1/16/2020 Rockhouse Bar & Grill – El Paso, TX
1/17/2020 The Dive Bar – Tucson, AZ
1/18/2020 The Lexington – Los Angeles, CA
1/19/2020 Grace Preschool – San Jose, CA
1/20/2020 American Legion Vegas Post 8 – Las Vegas, NV
1/22/2020 The Black Sheep – Colorado Springs, CO
1/23/2020 Demon's Den – Lubbock, TX
---
Para más información sobre conciertos visita nuestra agenda de conciertos: https://www.brokentombmagazine.com/cita con la muerte/agenda de conciertos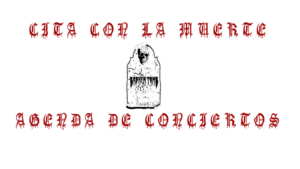 ---
La segunda de las giras será acompañando a The Acacia Strain, comenzando su andadura el 28 de febrero hasta el 11 de marzo, volviendo a la misma el 20 de marzo has el 5 de abril que finalice. A ellos también habrá que sumar a las bandas Rotting Out, Chamber y Fuming Mouth.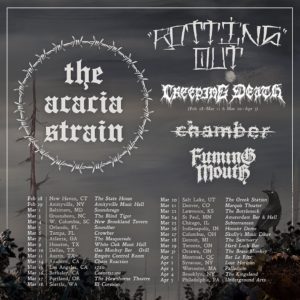 Las fechas son las siguientes:
2/28/2020 The State House – New Haven, CT
2/29/2020 Amityville Music Hall – Amityville, NY
3/01/2020 Soundstage – Baltimore, MD
3/02/2020 Canal Club – Richmond, VA * CREEPING DEATH only
3/03/2020 The Blind Tiger – Greensboro, NC
3/04/2020 New Brookland Tavern – W. Columbia, SC
3/05/2020 Soundbar – Orlando, FL
3/06/2020 Crowbar – Tampa, FL
3/07/2020 The Masquerade – Atlanta, GA
3/09/2020 White Oak Music Hall – Houston, TX
3/10/2020 Gas Monkey Bar & Grill – Dallas, TX
3/11/2020 Empire Control Room – Austin, TX
3/20/2020 The Greek Station – Salt Lake City, UT
3/21/2020 Marquis Theater – Denver, CO
3/22/2020 The Bottleneck – Lawrence, KS
3/23/2020 Blackhawk Room – Moline, IL * CREEPING DEATH only
3/24/2020 Amsterdam Bar & Hall – St. Paul, MN
3/25/2020 Subterranean – Chicago, IL
3/26/2020 Hoosier Dome – Indianapolis, IN
3/27/2020 Skully's Music Diner – Columbus, OH
3/28/2020 The Sanctuary – Detroit, MI
3/29/2020 Hard Luck Bar – Toronto, ON
3/31/2020 The Brass Monkey – Ottawa, ON
4/01/2020 Bar le Ritz – Montreal, QC
4/02/2020 Lost Horizon – Syracuse, NY
4/03/2020 Palladium – Worcester, MA
4/04/2020 The Kingsland – Brooklyn, NY
4/05/2020 Underground Arts – Philadelphia, PA
6/05-07/2020 Oblivion Access 2020 – Austin, TX
---
Además, como tercera parte de la gira, estarán actuando en Oblivion Access 2020 en Austin, Texas (USA), que se celebra entre el 5 y el 7 de junio, junto con grupos de la talla de Carcass, Youth Of Today, Daughters, Swans o Autopsy.