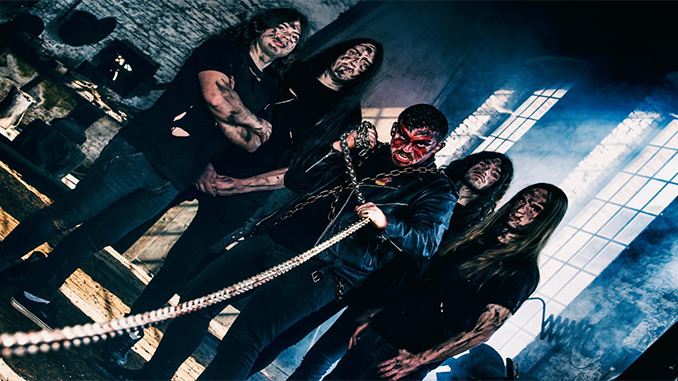 Los belgas death metaleros Carnation presenta nuevo vídeo perteneciente a su primer trabajo «Chapel of Abhorrence». El tema escogido es «Power Trip» y lo podéis ver a través del canal de YouTube de Season of Mist. El enlace del vídeo es el siguiente: —> https://youtu.be/UbonZZMFGlI.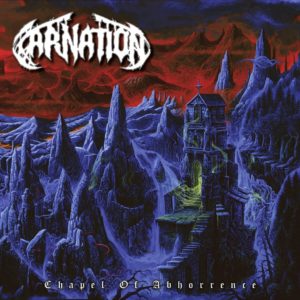 «Chapel of Abhorrence» fue editado en Agosto del año pasado por Season of Mist, el cual representa la ascensión que han conseguido los belgas dentro del Death Metal.
Track-list
1. The Whisperer (6:16)
2. Hellfire (4:17)
3. Chapel of Abhorrence (3:23)
4. The Unconquerable Sun (4:10)
5. Disciples of Bloodlust (3:28)
6. Hatred Unleashed (3:23)
7. Plaguebreeder (3:45)
8. Magnum Chaos (4:41)
9. Sermon of the Dead (4:38)
10. Fathomless Depths (5:38)
11. Power Trip (4:02)
---
Para más información sobre conciertos visita nuestra agenda de conciertos:    https://www.brokentombmagazine.com/cita con la muerte/agenda de conciertos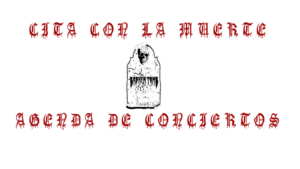 ---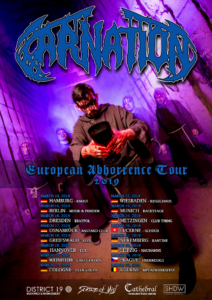 A la vez, Carnation van a estar girando con sus compañeros de discográfica Hierophant como teloneros de los alemanes Deserted Fear por Europa a partir del 14 de Marzo hasta el 29 de Marzo.
Las fechas son las siguientes:
14 Mar 19 Hamburg (DE) Knust
15 Mar 19 Berlin (DE) Musik und Frieden
16 Mar 19 Dresden (DE) Beatpol
17 Mar 19 Osnabrück (DE) Bastard Club
18 Mar 19 Greifswald (DE) Klex
19 Mar 19 Hannover (DE) Lux
20 Mar 19 Weinheim (DE) Cafe Central
21 Mar 19 Cologne (DE) Volta
22 Mar 19 Wiesbaden (DE) Kesselhaus
23 Mar 19 Munich (DE) Backstage
24 Mar 19 Metzingen (DE) Club thing
26 Mar 19 Luzern (CH) Schüür
27 Mar 19 Nuremberg (DE) Kantina
28 Mar 19 Leipzig (DE) Naumanns
29 Mar 19 Prague (CZ) Underdogs
Otras fechas de Carnation:
30 Mar 19 Kuurne (BE) Metal Worksfest
20 Apr 19 Den Haag (NL) Het Paard
10 May 19 London (UK) Nambucca
25 May 19 Erica (NL) Pitfest 2019
10 Aug 19 Kortrijk (BE) Alcatraz Festival 2019
11 Oct 19 Tokyo (JP) Asakusa Deathfest 2019
Line-up
Simon Duson: vocals
Jonathan Verstrepen: guitars
Bert Vervoort: guitars
Yarne Heylen: bass
Vincent Verstrepen: drums
Recording: Project Zero Studio (Belgium)
Produced/mixed: Yarne Heylen & Bert Vervoort
Mastering: Dan Swanö – Unisound Studio
Cover art: Juanjo Castellano
www.carnationband.com
www.facebook.com/CarnationBE
www.instagram.com/carnationbandofficial
www.youtube.com/c/CarnationOfficialBE