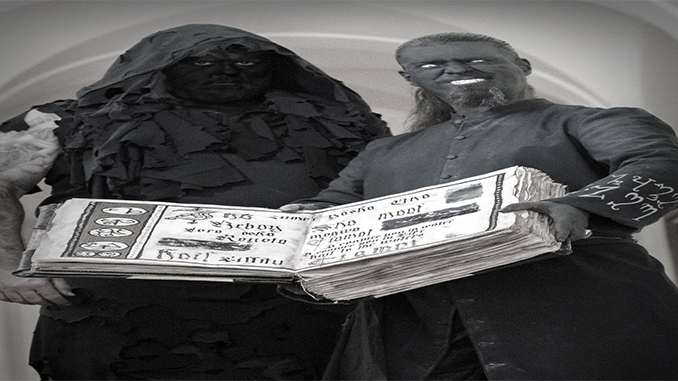 Hoy dará comienzo la gira del grupo de Death Metal de Canadá Necronomicon por los EE.UU, como apoyo a su recien trabajo, «Unus», editado el 18 de octubre por el sello Season of Mist.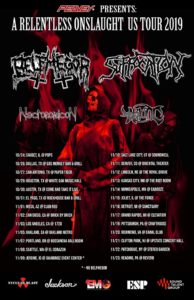 El nuevo trabajo de Necronomicon, combina los elementos furiosos del Death Metal con la destreza orquestal del Black Metal, creando un ambiente sinfónico, que culmina en un sonido cercano a varios iconos del Metal Extremo como DIMMU BORGIR, SEPTICFLESH, BEHEMOTH o DEICIDE.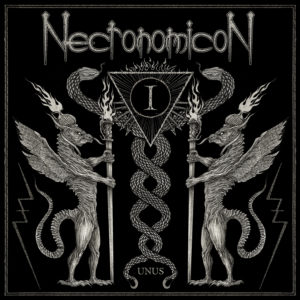 Las canciones destacadas como «Paradise Lost» y «Singularis Dominus», solo solidifican la capacidad de Necronomicon de producir continuamente metal de alta calidad, que es tan oscuro y brutal como elegante.
Track Listing:
1. From Ashes Into Flesh (04:23)
2. Infinitum Continuum (05:27)
3. Paradise Lost (04:55)
4. The Price of A Soul (01:56)
5. Singularis Dominus (04:50)
6. The Thousand Masks (03:20)
7. Ascending The Throne of Baator (04:54)
8. Fhtagn (01:59)
9. Cursed MMXIX (04:13)
10. Vox Draconis (04:13)
Grabado en los estudios Silver Wings, producido por Rob The Witch
Mezclado y masterizado en Darth Mader music studio por Logan Mader (Machinehead)
Recording line-up:
Rob the Witch: Guitarra/vocalista/bajo
Divider: Batería
Invitado especial: Geirlioz (Dimmu Borgir), Piano en »From Ashes Into Flesh».
Portada: Diseño del Dragon Caduceus por Nestor Avalos,diseño y portada por Simon Bossert
---
Para más información sobre conciertos visita nuestra agenda de conciertos: http://www.brokentombmagazine.com/cita con la muerte/agenda de conciertos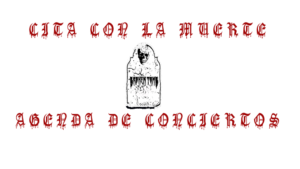 ---
La gira que comienza hoy en Sauget (IL) tendrán de acompañantes a los austriacos Belphegor, Suffocation y Abiotic. Toda una audición destructiva que finalizará el próximo 23 de noviembre en Reading (PA).
Las fechas son las siguientes:
10/24 – Sauget, IL – Pops
10/26 – Dallas, TX- Gas Monkey Bar and Grill
10/27 – San Antonio, TX – Paper Tiger
10/29 – Houston, TX – White Oak Music Hall
10/30 – Austin, TX – Come And Take It Live
10/31 – El Paso, TX – Rockhouse Bar & Grill
11/01 – Mesa, AZ – Club Red
11/02 – San Diego, CA – Brick By Brick
11/03 – Los Angeles, CA – 1720
11/05 – Oakland, CA – Oakland Metro
11/07 – Portland, OR – Bossanova Ballroom
11/08 – Seattle, WA – El Corazon
11/09 – Jerome, ID – Diamondz Event Center *
11/10 – Salt Lake City, UT – Soundwell
11/11 – Denver, CO – Oriental Theater
11/12 – Lincoln, NE – The Royal Grove
11/13 – Kansas City, MO – The Riot Room
11/14 – Minneapolis, MN – Cabooze
11/15 – Joliet, IL – The Forge
11/16 – Detroit, MI – Sanctuary
11/17 – Grand Rapids, MI – Elevation
11/19 – Pittsburgh, PA – Crafthouse
11/20 – Richmond, VA – Canal Club
11/21 – Clifton Park, NY – Upstate Concert Hall
11/22 – Patchogue, NY – Stereo Garden
11/23 – Reading, PA – Reverb
* No Belphegor